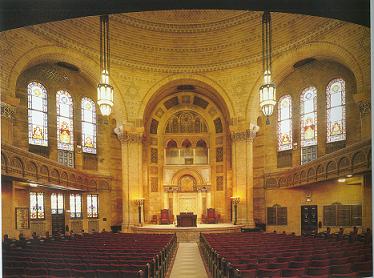 Sanctuary at K.A.M. Isaiah Israel Congregation, Chicago, Illinois
| | |
| --- | --- |
| Gramps ID | O0046 |
| File Type | image/jpeg |
| Date | |
Narrative
"This is the sanctuary that was bult under the leadership of my grandfather, Nathan Herzog, as President of the congregation.
I grew up here, went to Temple and Sunday school here, was Confirmed here, & took part in plays here. It was just Isaiah Israel then -- K.A.M. was added later.
It is an awe-inspiring place to worship!
It is at 51st Street (Hyde Park Blvd) (& Greenwood?)."
Marjorie Serby Robertson
c. 2003
Narrative
KAM Isaiah Israel
1100 E. Hyde Park Blvd.
Chicaco, IL 60615-2810
(773) 924-1234
http://www.kamii.org/